About MMAR
MMAR 2024
The International Conference on Methods and Models in Automation and Robotics is an annual conference that has been held since 1994. The next 28th one will take place in Międzyzdroje, Poland, between Tuesday, 27th August and Friday, 30th August 2024.
The Conference will be a good opportunity for highlighting the new results and directions of automatic control theory, technology and applications. Topics of interest include, but are not limited to:
– Identification, modelling and simulation,
– Signal processing,
– Control and systems theory,
– Robotics,
– Intelligent systems and methods,
– Control systems.
The participants of the 28th International MMAR Conference will have the opportunity to take part in the wide spectrum of categories for technical presentations, including plenary lectures, regular papers of both lecture and poster session types. We look forward to seeing our old and new friends in Poland. You are kindly invited to participate in the 28th International MMAR Conference in Miedzyzdroje, Poland.
We're aware some of the authors may still have objections against travelling and attending the event on-site. For those, we make it possible to participate in the conference online – presenting their papers and taking part in all sessions by means of video conference. Please choose your preferred way of participation in the registration form.
We still hope most of you will decide to arrive and enjoy the conference on-site.
See you in Międzyzdroje,
MMAR 2024 Organizing Committee
MMAR 2023 Young Author Prize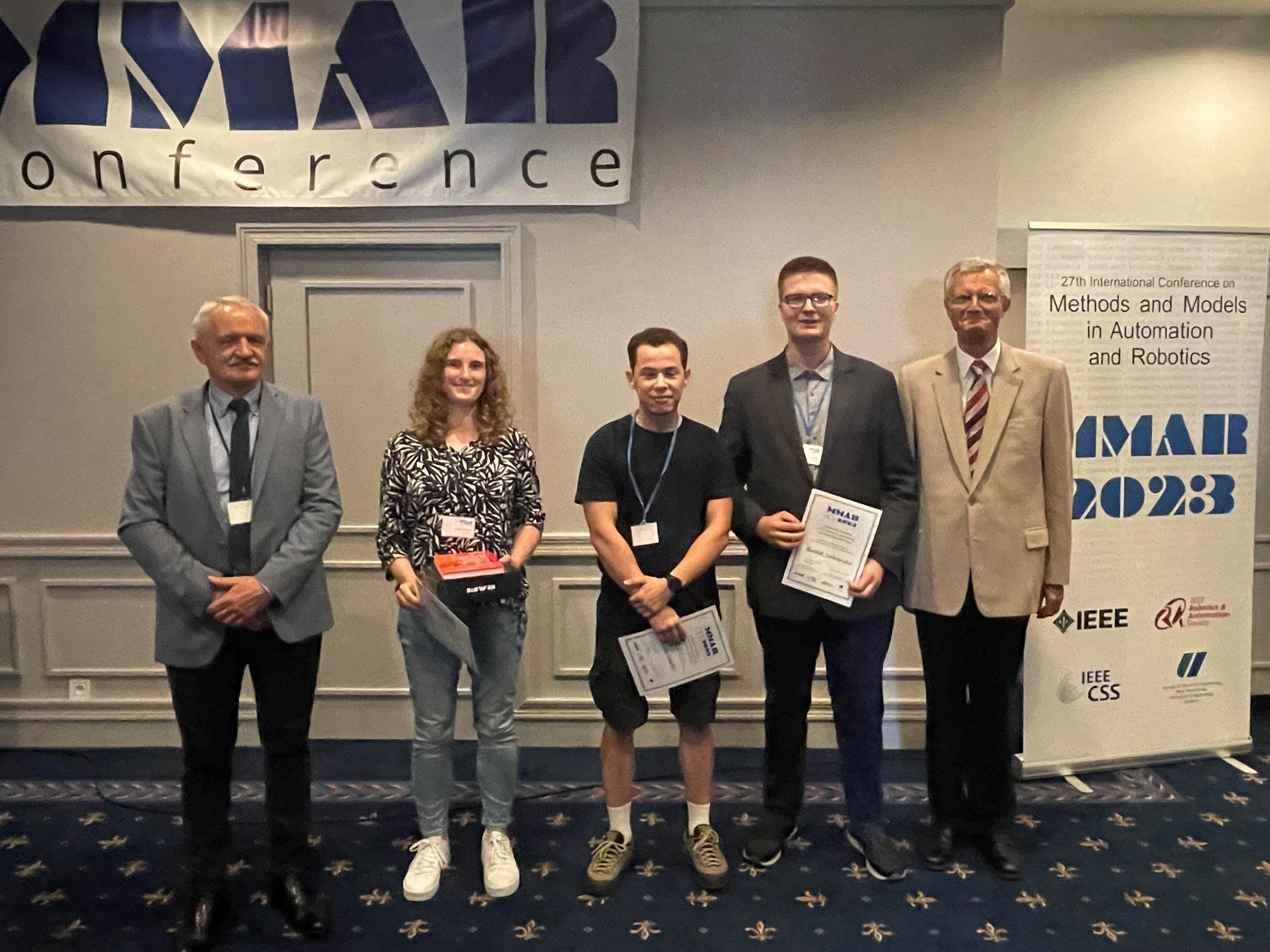 A total of 23 entries were submitted for the Young Author Best Paper competition this year. The IPC nominated for the prize Ms. Marit Lahme of the Carl von Ossietzky Universitat Oldenburg, Mr. Rafał M. Sobański of the Poznan University of Technology, and Mr. Lyes Saidi of the University of Technology of Compiègne. The main prize went to Ms. Marit Lahme of the Carl von Ossietzky Universitat Oldenburg for the paper "Online Identification of the Open-Circuit Voltage Characteristic of Lithium-Ion Batteries with a Contractor-Based Procedure".
More information about MMAR 2023 can be found in the Archive section.
Conference proceedings
The conference program and abstracts will be published as a booklet with an ISBN. Full papers will be published on an accompanying USB.
As in the previous years, the proceedings of the conference will be submitted for review and approval for inclusion in the IEEE Xplore® Digital Library.
IEEE Xplore Direct Links
MMAR 2023, MMAR 2022, MMAR 2021, MMAR 2019, MMAR 2018, MMAR 2017, MMAR 2016, MMAR 2015, MMAR 2014, MMAR 2013, MMAR 2012, MMAR 2011, MMAR 2010
Web of Science
MMAR Conferences 2010-2023 are indexed in the Web of Science under search term (Publication Name):
INTERNATIONAL CONFERENCE ON METHODS AND MODELS IN AUTOMATION AND ROBOTICS
or just "MMAR" in the Publication Index
SciVerse Scopus
Proceedings of MMAR 2010-2023 are also available at SciVerse Scopus abstract and citation database.
Organised by