About MMAR
MMAR 2022
Dear All,
the 26th MMAR is over. Thank you to all participants, both these visiting us in site and on line ones. Sharing your knowledge with all of you was a pleasure.
We would also like to congraulate some of us who got the nomination and the first prize in or competition for the best paper presented by young author. This year the winners are: Jakub Musiał – 1st prize, Paul Botezatu and Lukas Gründel.
We are looking forward to seeing you next year during MMAR 2023.
All the best
MMAR Organizers
MMAR 2022 Young Author Prize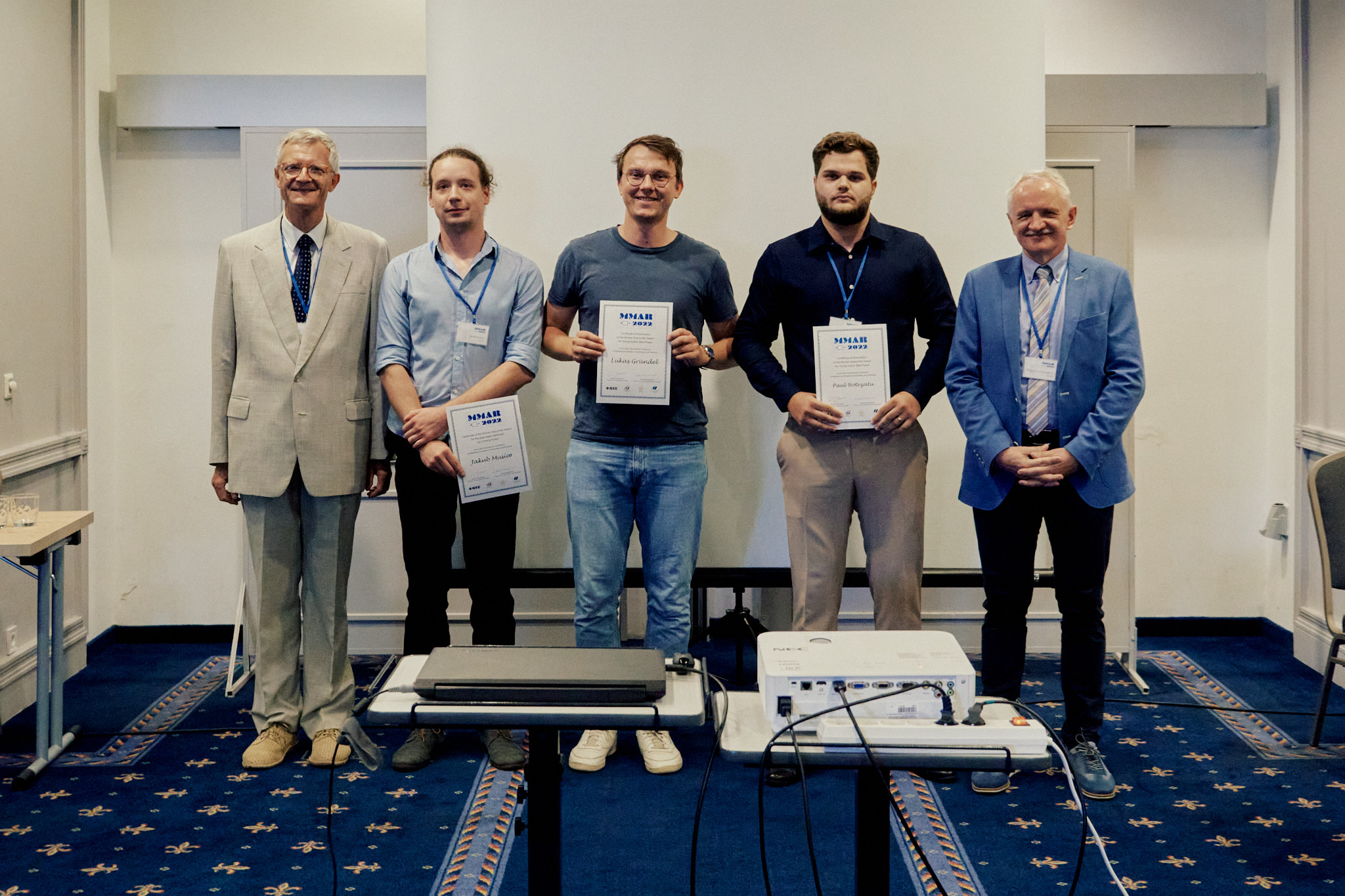 A total of 12 entries were submitted for the Young Author Best Paper competition this year. The IPC nominated for the prize Mr. Jakub Musiał of the Silesian University of Technology, Mr. Paul Botezatu of the Gheorghe Asachi Technical University of Iasi, and Mr. Lukas Gründel of the RWTH Aachen University Laboratory for Machine Tools. The main prize went to Mr. Jakub Musiał of the Silesian University of Technology for the paper "Implementation Aspects of Q-Learning Controller for a Class of Dynamical Processes".
More information about MMAR 2022 can be found in the Archive section.
Conference proceedings
The conference program and abstracts will be published as a booklet with an ISBN. Full papers will be published on an accompanying USB.
As in the previous years, the proceedings of the conference will be submitted for review and approval for inclusion in the IEEE Xplore® Digital Library.
IEEE Xplore Direct Links
MMAR 2022, MMAR 2021, MMAR 2019, MMAR 2018, MMAR 2017, MMAR 2016, MMAR 2015, MMAR 2014, MMAR 2013, MMAR 2012, MMAR 2011, MMAR 2010
Web of Science
MMAR Conferences 2010-2019 are indexed in the Web of Science under search term (Publication Name):
INTERNATIONAL CONFERENCE ON METHODS AND MODELS IN AUTOMATION AND ROBOTICS
or just "MMAR" in the Publication Index
SciVerse Scopus
Proceedings of MMAR 2010-2021 are also available at SciVerse Scopus abstract and citation database.
Organised by