About MMAR 2020
COVID-19 update:
After much consideration, MMAR Organizing Committee has decided to postpone this edition of the MMAR Conference till 2021.We are aware of severe travel restrictions, travel advisories, lock downs in Poland and across the globe due to pandemic. The next MMAR Conference will take place 23-26 August 2021.
Maintaining high conference standards and, above all, the health care of our participants is our highest priority.
The paper upload site is available at: https://www.epapers.org/mmar2020
MMAR 2020
The 25th International Conference on Methods and Models in Automation and Robotics is an annual conference that takes place in Międzyzdroje, Poland, between Monday, 24th August and Thursday, 27th August 2020. Please see above.
Conference proceedings
The conference program and abstracts will be published as a booklet with an ISBN. Full papers will be published on an accompanying USB.
As in the previous years, the proceedings of the conference will be submitted for review and approval for inclusion in the IEEE Xplore® Digital Library.
Plenary speakers for the MMAR 2020:
Dan Halperin
Tel Aviv University​, Israel
Joao Pedro Hespanha
University of California, CA, USA
Karl H. Johansson
Royal Institute of Technology, Sweden
MMAR 2019
Materials from the MMAR 2019:
| | |
| --- | --- |
| Lecture-only Schedule (timetable with paper titles) | Full book of abstracts, with program |
MMAR 2019 Young Author Prize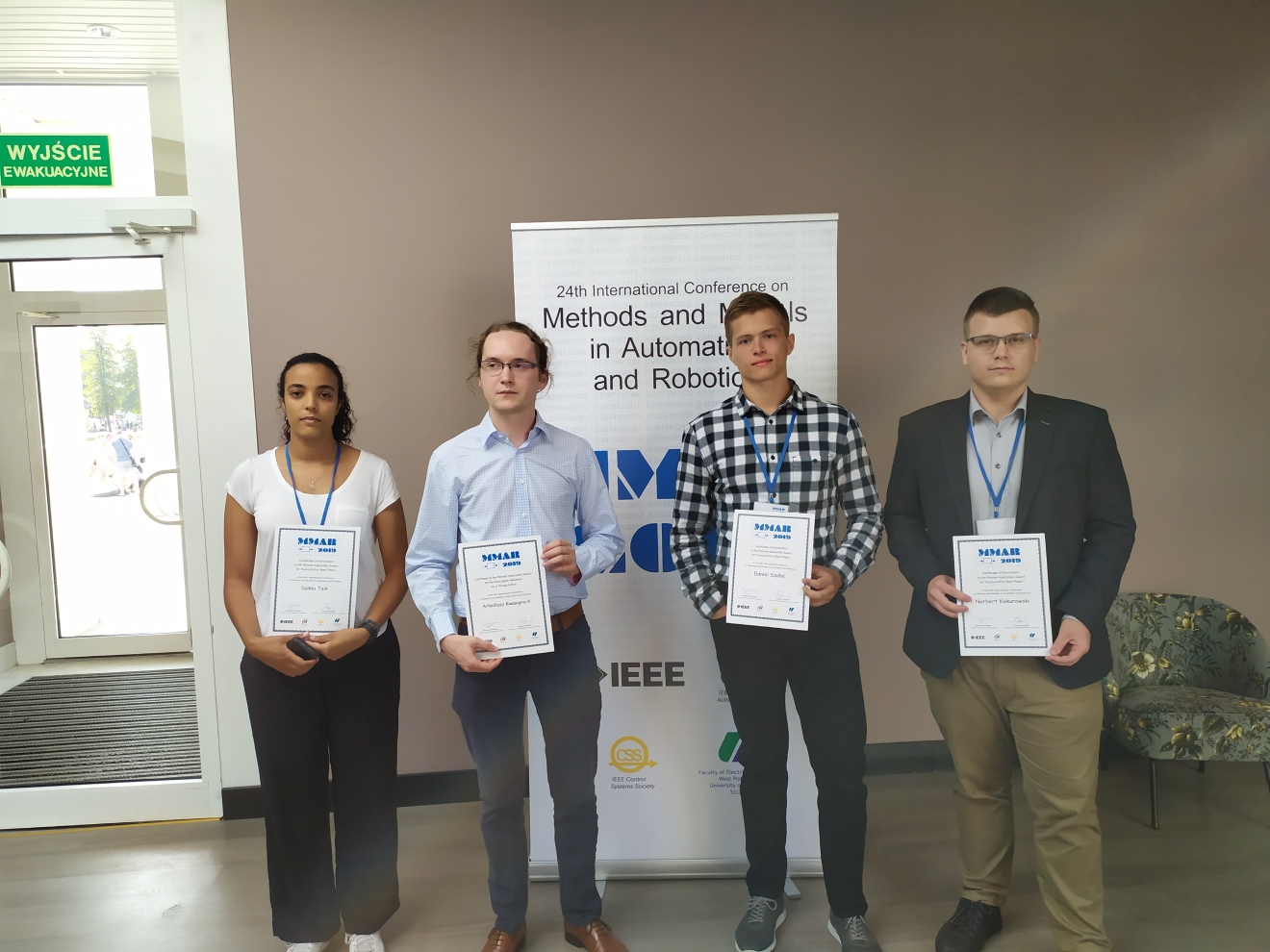 A total of 28 entries were submitted for the Young Author Best Paper competition this year. The IPC nominated for the prize Ms. Salma Taik of the Budapest University of Technology and Economics, Mr. Norbert Kukurowski of the University of Zielona Góra, Mr. Dániel Szabó of the Budapest University of Technology and Economics, and Mr. Arkadiusz Kwasigroch of the Gdańsk University of Technology. The main prize went to Mr. Arkadiusz Kwasigroch of the Gdańsk University of Technology for the paper "Deep Neural Network Architecture Search Using Network Morphism".
IEEE Xplore Direct Links
MMAR 2019, MMAR 2018, MMAR 2017, MMAR 2016, MMAR 2015, MMAR 2014, MMAR 2013, MMAR 2012, MMAR 2011, MMAR 2010
Web of Science
MMAR Conferences 2010-2018 are indexed in the Web of Science under search term (Publication Name):
INTERNATIONAL CONFERENCE ON METHODS AND MODELS IN AUTOMATION AND ROBOTICS
or just "MMAR" in the Publication Index
SciVerse Scopus
Proceedings of MMAR 2010-2019 are also available at SciVerse Scopus abstract and citation database.
Organised by